12th annual Nowruz Festival/دوازدهمین فستیوال نوروزی بنیاد کانادا و ایران
March 8, 2020 @ 11:00 am

-

6:00 pm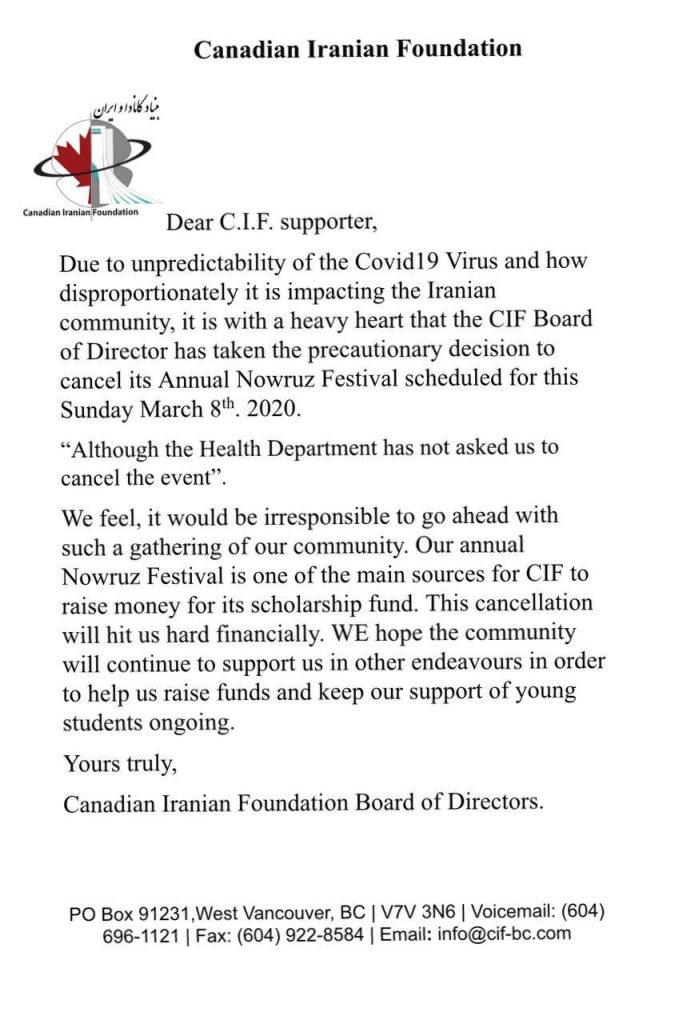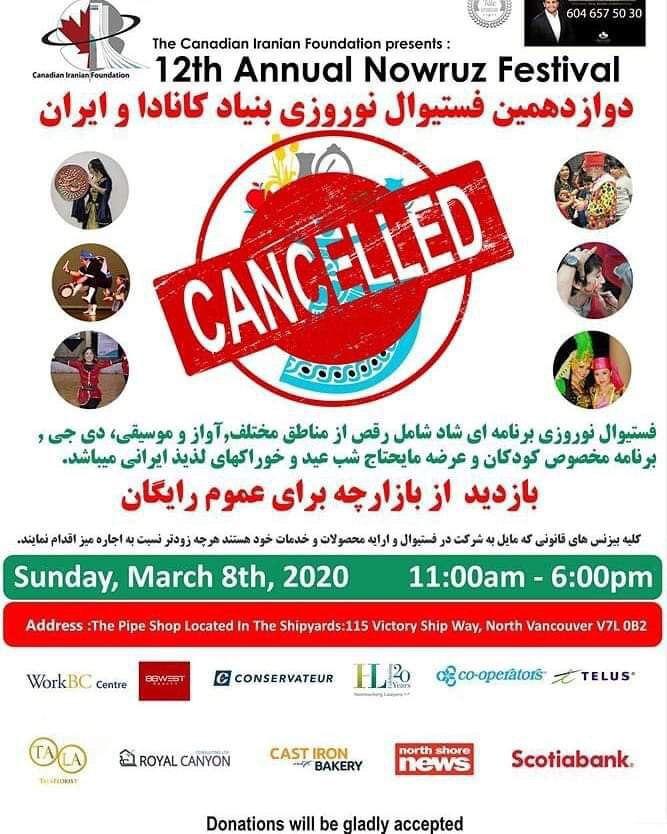 Canadian Iranian Foundation presents its 12th Annual Nowruz Festival on Sunday, March 8th, 2020 at the Pipe-Shop located at 11 Victory Ship Way, North Vancouver, BC. Stay tuned for more information. Contact C.I.F. voice mail: 604-800-1977 or E-Mail admin@cif-bc.com for renting a booth, volunteering, sponsoring or performing. Proceeds from this event will benefit C.I.F.'s scholarship fund.
Please continue donating the new items that you have at home and have no use for it to donate it to CIF so they can sell them at their Festival on March 8th. by doing this, you will help students scholarship funds to raise more funds.
Follow CIF on FB, Instagram, Telegram, Website and Twitter .
بنیاد کانادا و ایران برگزار می کند :
دوازدهمین فستیوال نوروزی بنیاد کانادا و ایران
فستیوال نوروزی برنامه ای شاد شامل رقص از مناطق مختلف,آواز و موسیقی، دی جی , برنامه مخصوص کودکان و عرضه مایحتاج شب عید و خوراکهای لذیذ ایرانی میباشد.
کلیه بیزنس های قانونی که مایل به شرکت در فستیوال و ارایه محصولات و خدمات خود هستند هرچه زودتر نسبت به اجاره میز اقدام نمایند.
بازدید  از بازارچه برای عموم رایگان می باشد.
زمان : یکشنبه 8 مارچ 2020 از ساعت 11صبح تا 6 عصر
مکان : Address :The Pipe Shop Located In The Shipyards:115 Victory Ship Way, North Vancouver V7L 0B2
جهت اطلاعات بیشتر به وب سایت زیر مراجعه بفرمایید :