Christmas Bazaar Fundraiser
December 8, 2018 @ 1:00 pm

-

4:00 pm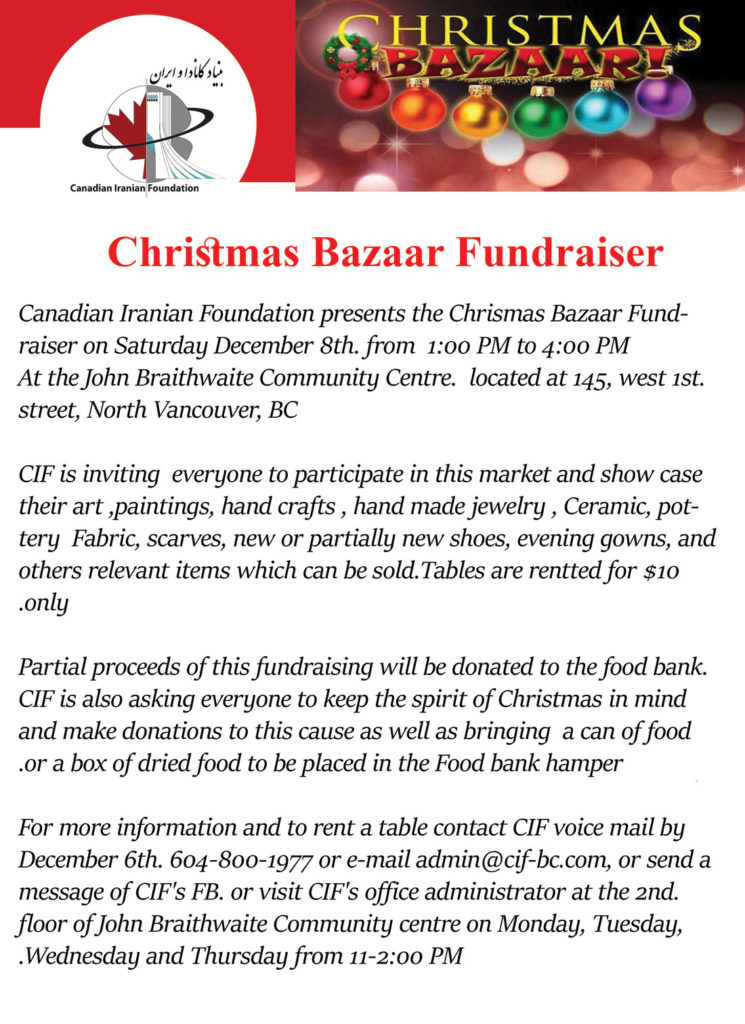 Christmas Bazaar Fundraiser
Canadian Iranian Foundation presents the Chrismas Bazaar Fundraiser on Saturday, December 8th. from 1:00 PM to 4:00 PM
At the John Braithwaite Community Centre. located at 145, west 1st. street, North Vancouver, BC
CIF is inviting everyone to participate in this market and showcase their art ,paintings, hand crafts , hand made jewelry , Ceramic, pottery Fabric, scarves, new or partially new shoes, evening gowns, and others relevant items which can be sold.Tables are rentted for $10 only.
Partial proceeds of this fundraising will be donated to the food bank. CIF is also asking everyone to keep the spirit of Christmas in mind and make donations to this cause as well as bringing a can of food or a box of dried food to be placed in the Food bank hamper.
For more information and to rent a table contact CIF voice mail by December 6th. 604-800-1977 or e-mail admin@cif-bc.com, or send a message of CIF's FB. or visit CIF's office administrator at the 2nd. floor of John Braithwaite Community center on Monday, Tuesday, Wednesday and Thursday from 11-2:00 PM.
Food Bank
بنیاد کانادا و ایران تقدیم می‌کند
بازارچه خیریه کریسمس دوستانی که مایل به عرضه یا فروش محصولاتشان نظیر کارهای هنری مانند نقاشي، هنرهاي دستي،، شيريني،اسباب بازي و لباسهاي نو، چيني وكريستال را دارندمی‌تواند با $10اجاره میز در این بازارچه خیریه شرکت کنند، تعداد میز ها محدود است
«کلیه در امد میزها مربوط به صاحبان کالا می‌باشد »
بنیاد در امد حاصله از این بازارچه را به فود بنک‌اختصاص خواهد داد
تاریخ برگزاری : شنبه 8 دسامبر ساعت 1 تا 4 بعداز ظهر
مکان برگزاری : شماره 145خیابان یکم غربی نورت ونکوورکامیونیتی سنترجان برایت ویت
برای اطلاعات بيشتر و اجاره میز هرچه سریعتر با شماره 6048001977 و يا پست الكترونيكي بنياد
Admin@cif-B.C.com تماس حاصل فرماييد.